Podcast: Play in new window | Download
Subscribe: Apple Podcasts | RSS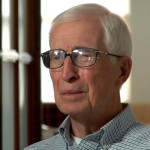 Ruth Thomas-Suh talks about her powerful new film, REJECT. Joining the conversation is her father, Herbert Thomas, author of THE SHAME RESPONSE TO REJECTION. And environmental journalist John Cushman talks about about what's really in the State Department's Environmental Impact report on the Keystone XL pipeline.
Ruth Thomas-Suh and Herbert Thomas
Bullying is a serious and growing problem in today's schools and online. And awareness of it — and attempts to stop it — are increasing. But bullying is just one part of the much larger phenomenon of social rejection. And the impact of rejection is devastating, whether it's experienced as a child or an adult. Moreover, children who are rejected by their peers experience the fallout well into adulthood — at higher risk for depression and even physical illnesses like cancer and heart disease.
In fact, rejection hurts. And that's not a metaphor. As my guests, Ruth Thomas-Suh and Herbert Thomas explain, when we are rejected by those around us, the pain centers of our brains are activated identically to a physical assault.
In her wonderful film, Reject, Ruth Thomas-Suh set out to tell the stories of two children — one who succumbed to the pain and committed suicide at age 17; the other, much younger, who was caught early enough and put into a loving classroom that demanded universal acceptance — and flourished. She also tells the scientific story of rejection — it's impact on the brain.
She was inspired in part by the work her father did as a psychologist in a maximum security prison, where he began exploring the connection between rejection, shame and inmate violence. His 1997 book is The Shame Response To Rejection and he joins us, as well.
John Cushman
If you were reading or listening to the news this week, you might have heard about the State Department's environmental impact report on the Keystone XL pipeline. If so, you probably think it cleared the way for the pipeline to go forward. At least, that's what most of the media seemed to think.

But the reality is more complicated than that. In fact, the report raised some real questions that environmentalists will be using as ammunition in the continuing fight over whether Keystone XL will be built. Journalist John Cushman discusses what the report does and doesn't say and why the fight to stop Keystone XL is so important.
A journalist in Washington since the mid 70s, Cushman covered the EPA for the New York Times and now works with Inside Climate News, the online news site that won a Pulitzer Prize last year for its report,"The Dilbit Disaster," an investigation into the million-gallon spill of Canadian tar sands oil into the Kalamazoo River in 2010.