Podcast: Play in new window | Download
Subscribe: Apple Podcasts | RSS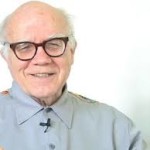 Christian theologian and peace activist James W. Douglass tells us why he thinks JFK was assassinated. He says it was because Kennedy went up against the military-industrial complex and the national security state. His carefully researched book is JFK AND THE UNSPEAKABLE. On the 50th Anniversary of JFK's assassination, we re-air this interview from 2009.
"This is the story…of a person who turned against a way that was destructive toward a way that is peaceful and just — and from that point on he and his enemy, Nikita Khrushchev, begin to work together and that's the beginning of the end of John Kennedy." –James W. Douglass
For many young Americans, 9/11 was the defining moment of their generation, after which the world would never be the same. For older generations, the assassination of John F. Kennedy changed their world. Then, in short succession, came the murders of Malcom X, JFK's brother Robert, and Martin Luther King. All four assassinations happened within a period of five years.
James W. Douglass thinks the murders were connected by a common thread — the threat the victims had posed, while alive, to what Dwight Eisenhower called the military-industrial complex. In his meticulously researched book, JFK And The Unspeakable, Douglass turns his attention to the first assassination of the four. The book explores the covert forces behind the assassination, including the CIA.
But even more fascinating, it examines Kennedy's turn toward peace, what he learned from the Bay of Pigs and the Cuban Missile Crisis, his internal conflict over Vietnam, and his confrontation with the power of Big Steel over government military contracts.
In doing so, Douglas gives not just the "how" of JFK's murder, but the "why:" JFK's growing determination to break up what he saw as the greatest threat to peace in the world and democracy at home: the national security state.
Oliver Stone, who made the film JFK, wrote the forward to James Douglass' book. He says it's "one of those rare books that, by helping us understand our history, has the power to change it."
James Douglass is a long time peace activist and Christian theologian. He co-founded the Ground Zero Center for Nonviolent Action in Washington state. In 1997 he and his wife received the Pacem in Terris Award for their work on behalf of peace.
Web Extra: James Douglass tells Writers Voice more about Lee Harvey Oswald.
Links