Podcast: Play in new window | Download
Subscribe: Apple Podcasts | RSS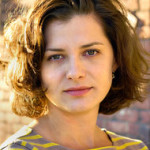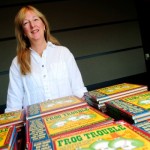 Novelist Ivy Pochoda talks about her new work of fiction, VISITATION STREET. And children's book Sandra Boynton discusses her new book and CD set of country music songs, sung by some of country music's greatest. It's called FROG TROUBLE.
Ivy Pochoda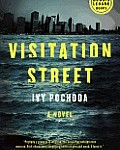 The gritty neighborhood of Red Hook in Brooklyn NY is the setting for Ivy Pochoda's wonderful new novel, VISITATION STREET (Ecco, 2013.). Red Hook is a neighborhood in transition, layered with old and new. There are the Red Hook projects, where many of the community's African-American residents live; the old warehouses of the port, abandoned when container ships took over. And the white working class families left over from the longshoreman days. And there are the new people: artists, craftspeople and small business owners moving in and gentrifying the neighborhood.
Visitation Street explores what happens when all these currents of race and class, of new and old, collide after a fifteen year old girl goes missing. With vivid characters and an acute sense of place, Pochoda combines elements of mystery, magical realism, and just plain old great storytelling to weave her tale.
Ivy Pochoda grew up in Brooklyn and lived in Red Hook. Her previous novel was The Art of Disappearing (St. Martin's Press, 2009). Visitation Street is out from Harper Collins' under its Dennis LeHane imprint. More on that, in our interview.
Read an excerpt from Visitation Street

Sandra Boynton
Sandra Boynton is best known for her children's books, like Moo-Moo, Baa, Baa, La-la-la and Perfect Piggies. But she also has turned her whimsical pen to songwriting in such albums as Blue Moo and Dog Train.

Her latest production is a foray into country music called FROG TROUBLE (Workman, 2013) and it is terrific. A phenomenally successful author, Boynton was able to get some of the best country musicians to sing for the album — among them, Alison Krause, Dwight Yoakum and Brad Paisley.
Boynton believes in writing songs and composing music that don't talk down to kids, but rather treat them like the smart — if small — individuals they are. So the lyrics and melodies on Frog Trouble are something anyone of any age can enjoy. We play plenty of cuts from the album, so you have a chance to hear them.