Podcast: Play in new window | Download
Subscribe: Apple Podcasts | RSS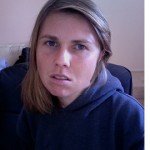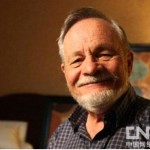 Brian Fagan talks about his book, THE ATTACKING OCEAN: The Past, Present, and Future of Rising Sea Levels, and we also air our 2011 interview with Christine Shearer about Kivalina, an Alaskan community that is already getting hammered by sea level rise.
Brian Fagan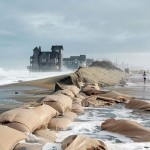 Pity the poor residents of coastal North Carolina. Not only are they vulnerable to sea level rise that will flood many of their communities — but their state government isn't even allowed to take the impact of climate change on sea levels into account. That's because the state legislature voted last July to forbid studies predicting a rapid rise in sea level due to climate change from being included in planning for sea level rise.
But New York's Mayor Bloomberg has taken a different tack. Speaking at the Brooklyn Navy Yard June 11, he announced a $20 billion plan to protect the city from rising sea levels due to global warming — levels that could reach as much as 2 meters by century's end.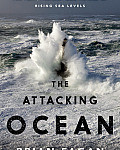 New York isn't the only city so threatened, of course. Miami may be the US city most threatened by sea level rise in the U.S. In fact, by 2100 large parts of Florida may be underwater. And the entire country of Bangladesh is at risk.
It isn't been the first time humans have confronted changes in sea level — but it is the first time so many people have lived in fixed communities so close to the shore.
Archeologist and anthropologist Brian Fagan has devoted a good portion of the last few decades to writing about climate changes in history. We last spoke to him about his 2008 book, The Great Warming, about the medieval warming period. Now he's come out with The Attacking Ocean. It's about sea level rise, past, present and future.
Read an excerpt from THE ATTACKING OCEAN.
Christine Shearer
Francesca spoke with Christine Shearer in 2011 about her book, Kivalina. It's about an Alaskan community that is already dealing the devastation of sea level rise.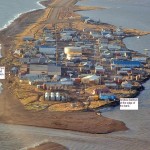 In 2008, the traditional Inupiat Eskimo community of Kivalina, Alaska filed suit against ExxonMobil Corporation and 19 other fossil fuel companies. In 1953, the village of Kivalina covered about 54 acres but now is down to about 27. The village sits at most a few feet above the water and depends on sea ice to protect it. That sea ice is going away.
The people of Kivalina charge the oil companies with contributing to the global warming that's taking their town — and they're suing for compensation and relocation costs. It's a landmark case that is still wending its way through the courts.
Christine Shearer's book, Kivalina: A Climate Change Story, recounts the struggle of the residents against the oil companies. But she goes beyond that, showing how their story is part of a larger pattern of denial and obstruction on the part of polluting corporations who are fighting tooth and nail to stop action on the climate.
Shearer has worked for the Center for Investigative Reporting, and the National Center for Ecological Analysis and Synthesis. Her work has appeared in National Geographic, Climate Progress, and The Journal of Political Ecology, among others.