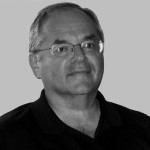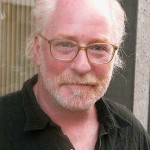 Larry A. Fader talks about his book 120'0″; it's a previously unpublished two-hour conversation with composer John Cage. And artist and writer Matthew Rose talks about the unbound book of art postcards he curated, A BOOK ABOUT DEATH, in a re-broadcast of a WV 2009 interview.
Larry Fader
Back in 1976, WV guest Larry Fader was going for his Ph.D. in religion from Temple University. He decided to do his thesis on the influence of Zen teacher D.T. Suzuki on Western culture. As part of his research, he conducted a series of interviews — a conversation, really — with avant garde composer John Cage.
That's because Cage's music was inspired by his studies of Zen Buddhism, including his notion of chance-controlled music and his famous 1952 composition 4 minutes 33 seconds, which is performed in the absence of deliberate sound.

Fader tells WV about that piece and more about John Cage on today's show. His book, 120'0″ reproduces his previously unpublished two-hour conversation with John Cage in 1976 on the subjects of Zen Buddhism, music, dance, and Eastern philosophy. Beautifully produced by Nine Point Publishing, it includes two CDs of excerpts from Fader's two hour conversation with John Cage, as well as artwork by the composer and a forward by the American Buddhist writer and academic, Tenzin Robert Thurman. Francesca spoke with Fader in September 2012, around the 100th anniversary of John Cage's birth.
Larry Fader writes poetry, sings, and has a therapy practice in western Massachusetts.
Matthew Rose
The first segment of today's show features a converstation about composer John Cage, who was an important influence on and participant in the artistic movement of the 1960's called Fluxus, so named by artist George Maciunas.
Maciunas, Cage, Yoko Ono and others who were involved in Fluxus worked and lived in the emerging artists community of Soho in downtown Manhattan. In 2009, Francesca spoke with writer and artist Matthew Rose about Fluxus and the unbound book of art postcards he curated, A BOOK ABOUT DEATH, for an exhibition in a Fluxus gallery in Soho. WV plays an excerpt from that interview on this episode.
Matthew Rose is an American artist and writer living and working in Paris, France. He also writes for newspapers and magazines (Art & Antiques, The Wall Street Journal, Art & Auction, theartblog.org) on art, culture, business and wine.