Podcast: Play in new window | Download
Subscribe: Apple Podcasts | RSS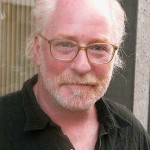 Artist and writer Matthew Rose talks about the unbound book of art postcards he curated, A BOOK ABOUT DEATH. It's a collection of 500 limited edition postcards on the theme of death, each one created by an artist for the exhibition. And George Monbiot and Bill McKibben talk about climate change.
Soho and artists
The Soho district in Manhattan is known today as one of the city's toniest neighborhoods – a place where you can drop $2 or 3$ million dollars to buy a loft. But before the mid-1960's it was a decaying industrial district, with lofts emptied out by the exodus of manufacturing to the South and eventually oversees.
[sniplet amazon search]
Soho's renaissance was due to one man, the artist George Maciunas. He began buying up the old lofts in the 1960's to create artists cooperatives, especially for friends of his, like videographer Nam Jun Paik and filmmaker Jonas Meekas. Maciunas was a leader of the avant-garde art movement, Fluxus, which, in addition to Paik and Mekas, included musician John Cage and artist Yoko Ono. Maciunas called the artists' lofts, Flux Boxes.
Host Francesca Rheannon's mother, a mixed media modern dancer and choreographer, bought a loft from George Maciunas. One of her fellow coop members was Emily Harvey, muse and art dealer to the Fluxus movement. Harvey, who died in 2004, set up a foundation which still has a gallery in the building.
In October, when Rheannon was staying at her mother's loft, she happened to pass by the gallery's open door and heard some commotion inside. She popped in and found a singular exhibition being mounted. It was an unbound book of postcards sent in by nearly 500 artists from around the world on the theme of death. The cards, each having 500 copies, were stacked in piles on the floor, with an array of them on the wall. It's called A BOOK ABOUT DEATH and the exhibition's curator is artist and writer, Matthew Rose.
Matthew Rose is an American artist and writer living and working in Paris, France. He also writes for newspapers and magazines (Art & Antiques, The Wall Street Journal, Art & Auction, theartblog.org) on art, culture, business and wine.
A BOOK ABOUT DEATH Video
Break Music by Christian Marclay, Toshio Kajiwara, & DJ Olive from the album djTRIO, Pittsburgh, July 5, 2002
Climate change
The climate talks in Copenhagen came to an end this week, not with a bang, but a whimper. Some have tried to put a good face on it, but many of those who care about saving the planet from climate catastrophe were sorely disappointed by the non-outcome of the talks in Copenhagen.
One of them was Bill McKibben. He is the force behind 350.org, a global movement to bring atmospheric carbon dioxide down to 350 ppm. Writers Voice spoke with Bill McKibben in 2007 about his book [amazon-product text="Deep Economy: The Wealth of Communities and the Durable Future" type="text"]0805087222[/amazon-product]. In it, he says we need to build living local economies that build durability into our economic system, for us and for the future.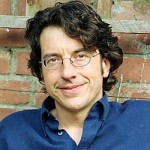 Another writer on climate change is British environmental journalist, George Monbiot. We spoke with him in 2007, while earlier climate talks were going on in Bali. He's author of [amazon-product text="Heat: How to Stop the Planet From Burning" type="text"]0896087875[/amazon-product].