Podcast: Play in new window | Download
Subscribe: Apple Podcasts | RSS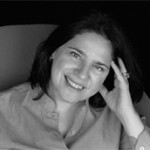 Novelist Cathleen Schine talks about her novel, THE THREE WEISMANNS OF WESTPORT. It's a wickedly funny satire on the modern conventions of divorce — and more. And Dr. James Hansen talks about his book STORMS OF MY GRANDCHILDREN in a re-airing of a 2010 interview he gave WV.
Cathleen Schine
Novelist Cathleen Schine grew up in Westport, Connecticut. The town provides the main setting for her latest novel, The Weismanns of Westport. Inspired by Jane Austen's Sense and Sensibility, it's a wickedly funny satire on the modern conventions of divorce. It's also a poignant look at the bonds between adult daughters and their mothers — and at finding love in unexpected places.
The main characters, 75 year old Betty Weismann and her middle-aged daughters Annie and Miranda, find themselves together in a run-down cottage in Westport after Betty has had to move out of the Central Park West apartment she shared with her husband of 50 years when he took up with a woman half his age. And her daughters are facing their own upheavals. So they all move in together — and end up finding out surprising things about themselves and each other.
Author Cathleen Schine takes the opportunity to skewer, among other things, male privilege, the book industry, and lurid memoirs. The New York Times reviewer wrote:
"The Three Weissmanns of Westport" is richly inhabited. Schine's characters, minor and major, have such a precisely imagined presence that they need only nod with affectionate courtesy to the shadows cast by "Sense and Sensibility" before chasing them away."
In addition to The Weismanns of Westport, Cathleen Schine is the author of best-selling novels The Love Letter, made into a movie starring Kate Capshaw, and Rameau's Niece, made into the movie The Misadventures of Margaret. She's the author of five other novels, including The New Yorkers. She also writes for The New Yorker and The New York Review of Books, among other publications.
Read an excerpt from The Three Weismann's of Westport
James Hansen
The recent rampage of Hurricane Irene brings the climate crisis urgently to mind. WV airs excerpts from a 2010 interview with climatologist James Hansen about his book STORMS OF MY GRANDCHILDREN. On August 29, right after Hurricane Irene barrelled up the East Coast, the 70 year old scientist was arrested in front of the White House.
Hansen was part of a protest movement against a Canadian company's proposal to construct a $7 billion-dollar, 17-hundred-mile pipeline. The Keystone XL pipeline would pump a particularly dirty type of heavy crude oil from the tar sands of Alberta, Canada to refineries along the U.S. Gulf Coast. The protests are organized by the group Tar Sands Action, spearheaded by environmental writer and advocate, Bill McKibben. McKibben has been a guest on WV several times — and, like Hansen, he was arrested at the protest.
Dr. James Hansen is the head of NASA's Goddard Institute for Space Studies. The planet's leading climatologist, Hansen was named in 2006 by Time Magazine as one of the 100 most influential people in the world.