Podcast: Play in new window | Download
Subscribe: Apple Podcasts | RSS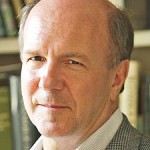 Simon Winchester talks about his sweeping history of the Atlantic Ocean, ATLANTIC and on the 100th anniversary of the Triangle Shirtwaist Fire we talk with Katharine Weber about her novel TRIANGLE.
Simon Winchester
It was known at one time as the Sea of Perpetual Gloom, inhabited by sea monsters and lashed by killer storms. It took the intrepid Phoenecians — who were looking for a particular species of snail — for western humans to venture into its feared waters.
In ATLANTIC, Simon Winchester says the Atlantic Ocean helped define Western civilization: from the Vikings to the great merchant fleets that gave rise to capitalism, the maritime explorers, the pirates, admirals and whalers who sailed its dark green waters to the NATO alliance of today. He covers its geologic, economic and literary history to spin a vast tale of our dependence on this great body of water — and imagines what might happen to it in the future.
His book, ATLANTIC: Great Sea Battles, Heroic Discoveries, Titanic Storms, and a Vast Ocean of a Million Stories is structured around a literary device. Winchester uses Shakespeare's monologue in As You Like It, the Seven Ages of Man, to explore the "seven ages" of the Atlantic Ocean.
Simon Winchester is the author of several bestsellers, including THE PROFESSOR AND THE MADMAN. He's coming out with a new book, The Alice Behind Wonderland. WV talked to him in 2007 about his book about the 1906 San Francisco earthquake, A CRACK IN THE EDGE OF THE WORLD.
Read an excerpt from Atlantic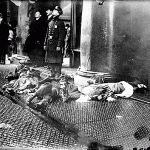 Katharine Weber
Katharine Weber's 2006 novel TRIANGLE is about the disastrous 1911 Triangle Shirtwaist Factory fire in New York City. 146 workers, mostly women and children, died in that blaze right near Washington Square. Weber explores how we remember and tell our family stories over time, especially when they intersect with family secrets — and historic events. Triangle won the 2007 Connecticut Book Award for fiction.
Weber is also the author of The Music Lesson (1999), The Little Women (2003) and True Confections (2010). She's working on a memoir about family stories and the narrative impulse called The Memory Of All That, due out this year.
WV first aired this interview in 2007.
March 25 2011 marks the 100 anniversary of the Triangle Shirtwaist fire. If you are in the New York area any time between now and the end of May, you can see an exhibition about it at New York University, with photographs, archives, artifacts, and film clips. Go to WV.net for a link to more information as well as a terrific video from the New York Times about garment workers today.
Excerpt from TRIANGLE
Garment workers 100 years later (NYT video)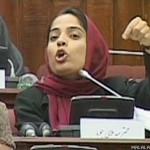 Malalai Joya
On Sunday March 20, Francesca was scheduled to do an interview for WV with Afghan politician, writer and human rights activist Malalai Joya. Elected to the Afghan Parliament at the age of 27 in 2005, she has used her position to denounce corruption and the continued hegemony of the warlords in Afghan politics. She's also a leading advocate for women's rights in Afghanistan. Because of her harsh criticism of warlords and fundamentalists in Afghanistan, Joya has been the target of at least five assassination attempts. She lives in hiding, moving from safe house to safe house. Her powerful autobiography, "A Woman Among Warlords"* is an inspiration. Simply said, Malalai Joya is a hero.
She was supposed to be in the US on book tour now, promoting the paperback edition of her book. Hence Francesca's planned interview. But she didn't get to talk with her this past week. That's because she has been denied a visa by the US government. This, in spite of the fact that last year, TIME magazine named her to its "TIME 100" list and Foreign Policy Magazine called her one of the "Top 100 Global Thinkers." But the State Department deems her unworthy to address American audiences because she "lives underground."
The American Civil Liberties Union, American Association of University Professors (AAUP) and PEN American Center sent a letter March 21 to Secretary of State Hillary Clinton and Homeland Security Secretary Janet Napolitano expressing concern over the denial of a visa to Malalai Joya.
Click here for four things you can do to help Malalai Joya come to the U.S. from the Afghan Women's Mission
ACTION ALERT! March 23 is National Call-In Day to demand a visa for Malalai Joya.