Podcast: Play in new window | Download
Subscribe: Apple Podcasts | RSS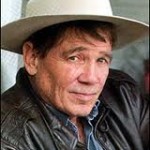 Mystery writer James Lee Burke talks about his latest novel in the Dave Robicheaux series, THE GLASS RAINBOW. And poet Doug Anderson reads two poems.
[amazon-product align="right"]1439128294[/amazon-product]James Lee Burke's real life and fictional life have a way of intersecting. Like the protagonist of his best-selling detective series, Dave Robichaux, Burke is a native of the Louisiana Gulf Coast (his 2007 novel THE TIN ROOF BLOWDOWN was set in a Gulf Coast devastated by hurricanes Katrina and Rita) and he divides his time between that beleaguered region and Montana. Like Robicheaux, he has a daughter named Alafair who is a writer. And both Burke and his character have been around the block a bit, having already passed the 70 year mark. [amazon-product align="left"]1416548505[/amazon-product]
Burke sees his fictional alter ego as the better man of the two — a hero who puts his life on the line defending the powerless and the abused. But Robicheaux is also haunted by his own psychic demons — his alcoholism, intimations of mortality, and moral ambivalence around the use of force against the forces of darkness.
Burke, who has written more than 20 books, won an Edgar Award for two of them, BLACK CHERRY BLUES and CIMARRON ROSE. His character Dave Robicheaux has been played by Tommy Lee Jones in the film The Electric Mist and by Alec Baldwin in Heaven's Prisoners. [amazon-product align="right"]0380712040[/amazon-product]
The setting for the latest novel in the Robicheaux series, The Glass Rainbow is the sugarcane and bayou country of Louisiana, where crime, corruption and the twisted strands of class and race are the ground for epic battles between good and evil. Robicheaux teams up with his best friend Clete Purcel to solve the mystery of the young woman's murder. The trail heads at first into the seamier side of town, but then veers into a thorny thicket leading to the plantations of the most powerful people in the parish.
Tune into this wonderful conversation with James Lee Burke as he talks about his latest book, what's happening to the Gulf Coast in the wake of the BP catastrophe, the history of the region, and his writing.
Read an article James Lee Burke wrote about writing
Also, Doug Anderson reads two poems, Petitionary Prayer on Nguyen Duy's Roof, and a birthday poem, Sixty Seventh.
Read other poems by Anderson
Sneak Preview: Next week, Writers Voice talks with Harvey Sachs about his book, THE NINTH: Beethoven and the World in 1824