Podcast: Play in new window | Download
Subscribe: Apple Podcasts | RSS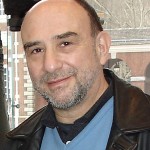 Host Francesca Rheannon spends the hour with poet Philip Schultz talking about his poetry, his method of teaching writing — and his dyslexia. His latest book is THE GOD OF LONELINESS.
[amazon-product align="right"]0547249659[/amazon-product]
Philip Schultz won the 2008 Pulitzer Prize for poetry for his book about his father, Failure. Ironically, that book, published when Schultz was 63, brought him a measure of success and fame that had eluded him throughout decades of writing verse, including five previous volumes of poetry. His new collection of poems, The God of Loneliness, brings together poems written across the span of those decades, from 1978 through 2009.
Schultz's themes center around family, especially the immigrant Jewish family he grew up in in Rochester, New York. His larger than life father — who held the record in New York for the most failed businesses, Schultz claims — is a major inspiration. But so are his grandmother with her acerbic pronouncements on life, his Uncle Jake, who dreamed big while running the projector at a local movie theater, and, perhaps his best-loved character, his guardian angel Stein. [amazon-product align="center"]0156031280[/amazon-product]
But Schultz has a new inspiration for his writing these days, and he's expressing it for the first time not in poetry, but in memoir. It's his dyslexia, which he discovered when one of his own children was diagnosed with the learning disability. He's much engaged in writing the memoir now, entitled My Dyslexia — it will be published by Norton Press.
Philip Schultz is the founder of The Writers Studio, which teaches fiction and poetry. In addition to The God of Loneliness, he's also the author of Like Wings (Viking Penguin, 1978), Deep Within the Ravine (Viking Penguin, 1984), My Guardian Angel Stein (State Street Press, 1986), The Holy Worm of Praise (Harcourt, 2002), Living in the Past (Harcourt, 2004), and Failure (Harcourt, 2007).
Poems by Philip Schultz
The God of Loneliness
Attention