Podcast: Play in new window | Download
Subscribe: Apple Podcasts | RSS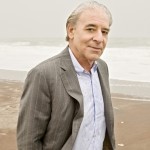 Alan Furst talks about writing and about his historical thrillers, SPIES OF THE BALKANS (2010) and THE FOREIGN CORRESPONDENT (2006).

Master of suspense Alan Furst sets his novels in Europe just prior to and during WWII. Most of them take place in the Balkans, with sorties to his favorite city in the world, Paris. They deal with the fight between freedom and fascism and the choice between saving yourself or risking your life for the common good.
His latest, SPIES OF THE BALKANS follows on the heels of his 2008 SPIES OF WARSAW. It takes place in the ancient port of Salonika, Greece, a rough and tumble town of wharves and warehouses, gangsters and spies. It's 1940. Mussolini's Italy threatens from the North — and behind Italy, the shadow of Hitler's war machine menaces. Furst's new hero, Senior Police Official Costa Zannis, is drawn into the effort to save his homeland — and Europe's Jews from the evil that is hunting them.
Francesca sat down with Alan Furst in his tiny writing studio in Sag Harbor, New York. He's a disciplined writer, putting in four hours every morning, during which time he's sustained just by coffee and the occasional cigarette. It's a pace that's produced 11 published works, among them Night Soldiers, The World at Night, Dark Voyage, and The Foreign Correspondent.
Read an excerpt from SPIES OF THE BALKANS
Writers Voice interviewed Furst in 2006 about THE FOREIGN CORRESPONDENT. It takes place mainly in Paris. This time, his hero is a journalist, Carlo Weisz, an expatriate Italian fighting the Mussolini regime by writing for the opposition newspaper, the Liberazione. The year is 1938, the storm clouds of war are gathering on the horizon, and Weisz is struggling to keep both his paper and himself alive. The book is a compelling portrait of Europe as it struggles with the opposing forces of fascism and freedom — forces that find their echoes today as the world grapples with terror and war.
Read an excerpt from THE FOREIGN CORRESPONDENT