Podcast: Play in new window | Download
Subscribe: Apple Podcasts | RSS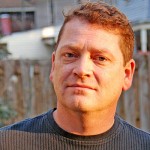 Peter Phillips of Project Censored talks about the Project's latest yearbook of the top censored news stories of 2009, CENSORED 2010. And novelist Dan Chaon talks about his thriller, AWAIT YOUR REPLY. It examines the truth and lies about identity.
Top 25 Censored Stories for 2010
[amazon-product align="right"]158322890X[/amazon-product]
When celebrity scandals and murders dominate the news, the stories that really affect our lives often go underreported: stories about nuclear waste that could contaminate large swathes of the US or how global corporations foster the conditions for piracy in places like Somalia. Between media consolidation and the dominance of news as entertainment, the American media consumer is often left with poor information about why things are the way they are.
For the last 34 years, Project Censored has been swimming against the tide of media-ocrity, bringing to light the big stories that have been too often ignored by the mainstream media. Walter Cronkite, one of that media's leading lights from its better days, called Project Censored "one of the organizations that we should listen to, to be assured that our newspapers and our broadcast outlets are practicing thorough and ethical journalism."
Based at Sonoma State University in California, the Project brings academics and students from nine campuses together to find, review, and fact check the stories that media either didn't cover or covered poorly. Out of these it picks the top 25 each year and publishes them in a book, Censored: The News That Didn't Make the News. I spoke with sociology professor Peter Phillips, former director of the Project in December.
[amazon-product align="left"]0345476026[/amazon-product]
Dan Chaon
Dan Chaon's novel [amazon-product text="AWAIT YOUR REPLY" type="text"]0345476026[/amazon-product]Â opens with a shocker: a young man who is being rushed to the hospital with his severed hand next to him in a cooler. He's with his father, or at least someone who claims to be his father. And his dad isn't the only character whose identity is in doubt. The novel is all about identity — shifting identities, re-inventing oneself, finding out one's own identity, and the identity theft. It follows three apparently separate stories, bringing them together only in the end. And if genre is the literary version of identity, Chaon's book itself has multiple personalities: moving from philosophical speculation to thriller with shapeshifting ease.
Chaon is also the author of [amazon-product text="YOU REMIND ME OF ME" type="text"]0345441400[/amazon-product], [amazon-product text="AMONG THE MISSING" type="text"]0345441613[/amazon-product]Â and [amazon-product text="FITTING ENDS" type="text"]0345449096[/amazon-product].