Podcast: Play in new window | Download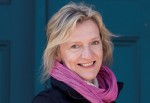 Elizabeth Strout reads from her latest novel, [amazon-product text="OLIVE KITTERIDGE" type="text"]0812971833[/amazon-product].
We talked with novelist Elizabeth Strout about her new book, OLIVE KITTERIDGE. She uses a collection of short stories to create a novel about the inhabitants of a coastal town in Maine.