Podcast: Play in new window | Download
Subscribe: Apple Podcasts | RSS
We talk with Gloria Dickie about bears and how people relate to them, for good and for ill. Her book is Eight Bears: Mythic Past and Imperiled Future.
Then, we talk about another iconic imperiled species: wolves. Sonja Swift tells us about her book: Echo Loba, Loba Echo: Of Wisdom, Wolves and Women.
Writers Voice— in depth conversation with writers of all genres, on the air since 2004.
Find us on Facebook at Writers Voice with Francesca Rheannon, on Instagram and Threads @WritersVoicePodcast or find us on X/Twitter @WritersVoice. Read transcripts and subscribe at the Writer's Voice Substack.
Love Writer's Voice? Please rate us on your podcast app. It really helps to get the word out about our show.
READ THE TRANSCRIPT ON OUR SUBSTACK
Key words: Gloria Dickie, bears, Sonja Swift, wolves, endangered species, podcast, book recommendations, author interview, book podcast, book show, creative nonfiction, writer's voice, Francesca Rheannon
Gloria Dickie on Bears
Well, it's official. The winner of Fat Bear Week is Bear 128 Grazer (see top photo), topping 32 Chunk to become the 2023 champion. She packed in enough salmon to pack ON enough pounds for winter hibernation.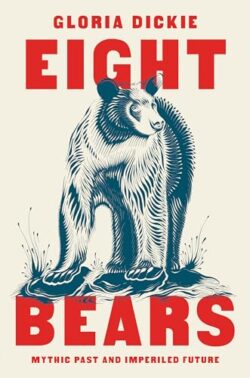 But, as we learn in our conversation with Gloria Dickie, hibernation is falling out of style with at least some bears. Winters are warming and the pickings are so good in some towns, like Lake Tahoe, California, that the local bears don't have to hibernate any more.
That can spell trouble for humans and bears: as bear/human encounters increase, the health of the world's bears depends on how people manage their interactions with them.
Eight Bears
Dickie's book Eight Bears tells us about conservation success stories for some bear species as well as threats of extinction to most of the others. Weaving together ecology, history, mythology, and accounts of her travels and observations, Dickie offers a closer look at our volatile relationship with these magnificent mammals.
About the Author
Gloria Dickie is an award-winning journalist and is currently a global climate and environment correspondent at Reuters.
Read or listen to an excerpt from Eight Bears
Sonja Swift on Wolves
Wolves have long played a fearsome role in mind of humanity, e.g. the Big Bad Wolf. Yet all dogs — "man's best friend" — are descended from the wolf. And wolves are more like us than perhaps any other animal, except our fellow great apes.
Sonja Swift's book Echo Loba, Loba Echo delves into the profound metaphor and reality of the wolf: wolf as guide vs. wolf as enemy; the crucial role of wolves in maintaining healthy ecosystems; and the conflicts between people and wolves that imperil the existence of this magnificent species.
She also draws a parallel between the persecution of wolves and common tropes that have been used to subjugate women, where the Big Bad Wolf morphs into Evil Woman.
Through essays and poems, in Echo Loba, Loba Echo Swift reminds us that when we seek to eradicate what we fear, we end up destroying our profound, life-sustaining connection with the creatures with whom we share this Earth.
Sonja Swift is a writer and poet who co-directs Windrose Fund of Common Counsel Foundation and is board chair of the Community Agroecology Network.
Poems Read In This Episode
The Last Wolf by Mary TallMountain