Podcast: Play in new window | Download
Subscribe: Apple Podcasts | RSS
We talk with historian Ahmed White about the Wobblies and the capitalist war on radical workers. His award-winning book is Under the Iron Heel.
Then Nikhil Goyal tells us about his book, Live to See the Day: Coming of Age in American Poverty. It follows three children as they struggle to survive in the poorest neighborhood of the poorest large city in America.
Writers Voice— in depth conversation with writers of all genres, on the air since 2004.
Find us on Facebook at Writers Voice with Francesca Rheannon, on Instagram and Threads @WritersVoicePodcast or find us on X/Twitter @WritersVoice.
Love Writer's Voice? Please rate us on your podcast app. It really helps to get the word out about our show.
key words: IWW, poverty, Nikhil Goyal, Ahmed White, history, creative nonfiction, labor history, podcast, book recommendations, author interview, book podcast, book show
One Big Union
In 1917, the Industrial Workers of the World was rapidly gaining strength and members in its campaign to build One Big Union uniting all workers.
Within a decade, this radical union was effectively destroyed, the victim of the most remarkable campaign of legal repression and vigilantism against a labor movement in American history.
Capitalist Repression, Rank-and-File Courage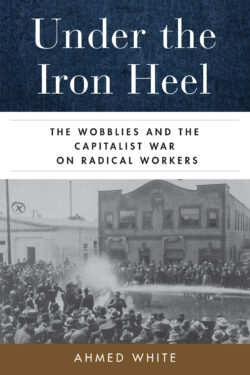 Historian Ahmed White has been fascinated with the story of the IWW for more than 20 years. Not only because of the repression the union suffered, but also because of the incredible courage of its members who stood up against it.
Now he's come out with an award-winning book, Under The Iron Heel, that tells that story of rank and file courage and the repression it defied.
About The Author
Ahmed White teaches labor and criminal law at the University of Colorado Boulder and is author of several books on American labor history.
Read an excerpt from Under The Iron Heel 
Coming of Age in American Poverty
Over 11 mil­lion chil­dren — 16% of all kids nation­wide — were liv­ing in pover­ty in 2020. That's the highest child poverty rate among advanced industrialized nations. And, of course, poverty's burdens fall heaviest on the backs of children of color.
It's a shameful record for the richest country in the history of the world. It's also a direct result of the neoliberal policies that have shredded the social safety net of the New Deal and LBJ's War on Poverty.
Three Kids From One of America's Poorest Neighborhoods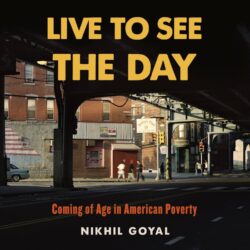 Nikhil Goyal brings the devastating impact of those policies vividly to life in his book, Live To See The Day. In it, he follows three Puerto Rican children from Philadelphia's Kensington neighborhood.
It's a coming-of-age story, one beset by the multifaceted violence of poverty. But it's also a story of the incredible resilience of these children and their mothers, as they strive to survive with dignity.
About The Author
Nikhil Goyal is a sociologist and policymaker who served as senior policy advisor on education and children for Senator Bernie Sanders when Sanders chaired the U.S. Senate Budget Committee and Committee on Health, Education, Labor, and Pensions.
Read an excerpt from Live To See The Day