Podcast: Play in new window | Download
Subscribe: Apple Podcasts | RSS
We talk with Elsa Sjunneson about life as a deaf-blind person and the rights every disabled person should have. Her book is Being Seen: One Deafblind Woman's Fight to End Ableism.
Later in the show we talk with podcaster and author Kathryn Nicolai about her book of stories for better sleep, Nothing Much Happens: Cozy & Calmng Stories to Soothe Your Mind & Help You Sleep. It's based on her wildly successful podcast of the same name.
Writers Voice— in depth conversation with writers of all genres, on the air since 2004.
Like us on Facebook at Writers Voice with Francesca Rheannon, on Instagram @WritersVoicePodcast or find us on Twitter @WritersVoice. Find Francesca at mastodon.social/@FRheannon
Love Writer's Voice? Please rate us on your podcast app. It really helps to get the word out about our show.
Elsa Sjunneson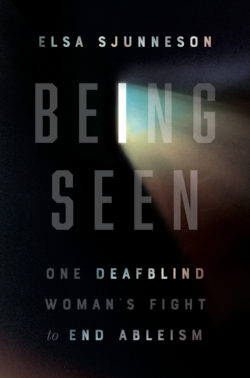 Disability rights are human rights. Yet how often does our society actually acknowledge, much less honor, that frame? The truth is, despite the Americans with Disabilities Act, our society isn't set up to meet the needs of disabled people. Not by a long shot.
Elsa Sjunneson has been contending with that reality for a long time. As a Deafblind woman with partial vision in one eye and bilateral hearing aids, Elsa Sjunneson lives at the crossroads of blindness and sight, hearing and deafness.
Her book Being Seen explores what it means to be disabled in America, how disabled people are portrayed in the media and why ignoring their needs damages us all.
Sjunneson is a disability rights activist, a media studies professor and a writer. She has written extensively on issues relating to disability and representation in the media. She also writes speculative fiction and has been a Hugo Award finalist seven times.
Read or Listen to an Excerpt from Being Seen
Elsa Sjunneson Exorcises Helen Keller
Kathryn Nicolai
Do you have trouble getting to sleep? Or do you nod off easily at bedtime, but then wake up in the early hours of the morning to toss and turn?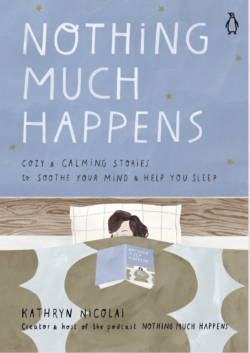 Americans have a sleep problem—and more of them are turning to sleep podcasts to help them slip off to dreamland and stay there. Many of them have found their way to Nothing Much Happens, the hugely popular podcast by Kathryn Nicolai.
On her podcast, she reads stories that promote a comforting kind of mindfulness: like the one called Holiday At Weathervane Farm. it's "a story about hay rides through snowy fields, the ducks waddling back from a day at the pond, and a new calf born who will only ever know kindness."
The podcast Nothing Much Happens was so successful, Nicolai new stories to create a book of the same title. Like the podcast, the book gently trains the brain to fall and stay asleep. It also includes tips for mindfulness when we are awake.
Before becoming a full time podcaster and writer, Kathryn Nicolai was a yoga and meditation teacher.