Podcast: Play in new window | Download
Subscribe: Apple Podcasts | RSS
We talk with Julia Fine about her genre-bending novel The Upstairs House. It's about a new mother's postpartum depression—and her obsession with Margaret Wise Brown, the author of Goodnight Moon.
Then best-selling legal thriller novelist Lisa Scottoline tells us about her first foray into writing historical fiction, Eternal. It's about a love triangle between three young friends in Rome during Mussolini's Fascist regime.
We also hear poet Martin Espada read his poem The Fugitive Poets of Fenway Park.
Writer's Voice — in depth conversation with writers of all genres, on the air since 2004. Rate us on iTunes or whatever podcast app you use!
Julia Fine
New motherhood is supposed to be a period of blissful nesting with your newborn. But for many mothers, it's a shock.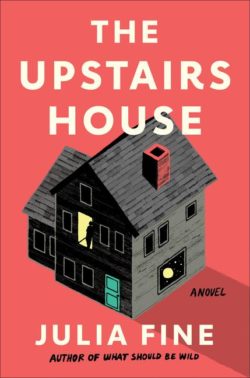 That was true for Julia Fine when she gave birth to her first child. She fell into postpartum depression without even fully understanding what or why she felt so bad.
Her new novel The Upstairs House emerged out of her experience. It's a
provocative meditation on new motherhood; a genre-bending story of how a postpartum woman's psychological unraveling becomes intertwined with the ghostly appearance of children's book writer Margaret Wise Brown. Like new motherhood itself, The Upstairs House questions what is real and what is not.
In addition to The Upstairs House, Julia Fine is the author of What Should Be Wild, which was shortlisted for the Bram Stoker Superior First Novel Award and the Chicago Review of Books Award. She teaches writing in Chicago.
Read a sample from The Upstairs House
Lisa Scottoline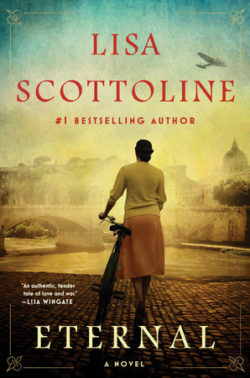 Lisa Scottoline is the author of 42 books…and counting. She's the best-selling author of courtroom thrillers like Legal Tender, Moment of Truth and Someone Knows.
But her latest book is her first work of historical fiction — and it had been percolating on her back burner ever since she took a seminar with the literary icon Philip Roth when she was in college.
Now, many years later, her novel Eternal is written and published — a gorgeous, spellbinding story about a love triangle that unfolds in the shadow of Mussolini's Fascist Italy.
Unfolding over decades, Eternal is a tale of loyalty and loss, family and food, love and war–all set in one of the world's most beautiful cities at its darkest moment.