Podcast: Play in new window | Download
Subscribe: Apple Podcasts | RSS
We talk with Heather McGhee about her important new book, The Sum of Us: What Racism Costs Everyone And How We Can Prosper Together. It's about how the politics of racial division keeps working class people of all races from having what they deserve.
But first, we talk with Michelle Commander of the Schomburg Center about the anthology she's co-edited: UNSUNG: Unheralded Narratives of American Slavery & Abolition.
Writer's Voice — in depth conversation with writers of all genres, on the air since 2004. Rate us on iTunes or whatever podcast app you use!
Michelle Commander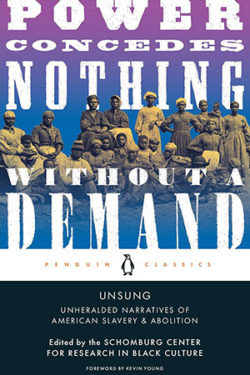 We've all heard of Frederick Douglass. But how about the great Abolitionist David Walker? And how many of us have read accounts of slavery written by people who had been enslaved themselves?
Now, The Schomburg Center for Research in Black Culture, a historic branch of the New York Public Library, has reached into its vast archive of slavery and anti-slavery materials to bring us Unsung.
The anthology gathers together well-known documents by abolitionists alongside lesser-known life stories and overlooked accounts of the everyday lives and activism of the slavery era.
Michelle Commander has written the introduction and co-edited Unsung with Kevin Young. She's Associate Director and Curator of the Lapidus Center for Historical Analysis of Transatlantic Slavery, part of the Schomburg Center and the author of Afro-Atlantic Flight: Speculative Returns and the Black Fantastic and Avidly Reads: Passages. Kevin Young is the Director of the Smithsonian National Museum of African American History and Culture.
Heather McGhee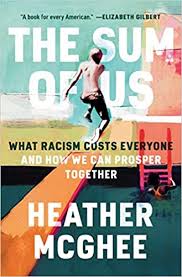 Since the Civil Rights Movement of the 1960s, a majority of white voters have chosen Republican candidates over Democrats.
And since that time, middle and working class white folks have seen their incomes flat or declining, the decimation of the unions that had once protected their incomes and the constant narrowing of access to public goods like education and health care. Is there a connection?
You bet, says Heather McGhee. Her new book The Sum of Us: What Racism Costs Everyone And How We Can Prosper Together shows how the racist zero-sum narrative has led to the impoverishment of middle and working class Americans of all races and ethnicities.
And overturning that narrative will mean a new race/class narrative that builds solidarity for all.
Heather McGhee is an expert in economic and social policy. The former president of the inequality-focused think tank Demos, she has drafted legislation, testified before Congress and now chairs the board of Color of Change.
Resources on the Race/Class Narrative
The Race/Class Narrative Project (Demos)
Race-Class Narrative Messaging Resources