Podcast: Play in new window | Download
Subscribe: Apple Podcasts | RSS
We spend the hour talking with Hugh Raffles about his new book, The Book Of Unconformities: Speculations On Lost Time. It's part natural history, part memoir, part meditation on the relationships between people and rocks throughout time.
Then, at the end, a short story about the Cure Hunter from Francesca's book Province of the Heart.
Writer's Voice — in depth conversation with writers of all genres, on the air since 2004. Rate us on iTunes or whatever podcast app you use!
Hugh Raffles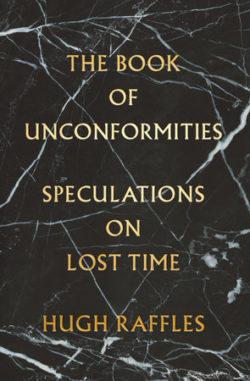 When Hugh Raffles' two sisters died suddenly within a few weeks of each other, he reached for rocks, stones, and other seemingly solid objects as anchors in a world unmoored, as ways to make sense of these events through stories far larger than his own.
The book that emerged is The Book of Unconformities: Speculations On Lost Time. It's a profound and affirming meditation, grounded in stories of stones: Neolithic stone circles, Icelandic lava, petrified whale blubber in Svalbard, the marble prized by Manhattan's Lenape Indians, and a huge Greenlandic meteorite that arrived with six Inuit adventurers in New York City in 1897.
Hugh Raffles is the author of the acclaimed book Insectopedia and of In Amazonia: A Natural History.
Read An Excerpt from The Book of Unconformities