Podcast: Play in new window | Download
Subscribe: Apple Podcasts | RSS
We talk with filmmaker Deborah Shaffer and film editor Rachel Reichman about Queen Of Hearts, their wonderful documentary about the life and work of Audrey Flack.
Then we talk with investigative journalist Greg Palast about the important victory he just won in court to force the Governor of Georgia to release the details of a huge purge of mostly African American voters in the 2018 Georgia election.
Deborah Shaffer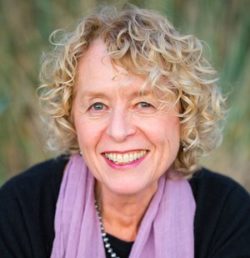 At 88 years-old, Audrey Flack holds a unique place in the history of contemporary art in America. Feminist, rebel, mother, painter, sculptor and teacher, Flack's often controversial 40-year career evolved from abstract expressionism in the 1950s to photorealism in the 1970s.
One of the first women ever included in the famed Janson's History of Art, Flack continues to create, explore, and inspire with her unique style and indomitable spirit.
Filmmaker Deborah Shaffer was inspired by Flack's life to explore the question of how artists, especially women artists, keep creating throughout their lives. Her film Queen of Hearts (produced by Amy Sultan) follows Flack as she takes her work in a brand new direction and reveals her long-term struggles as the mother of a child with autism. The film is a moving portrait of an artist who is still testing, still experimenting, and still searching.
Deborah Shaffer has been making social issue documentaries since the early 1970's, including the Academy Award winner Witness To War; and the award winning films Fire From The Mountain and Dance of Hope, among others.
Rachel Reichman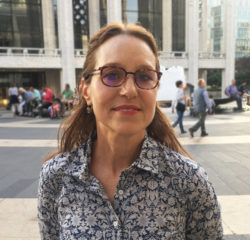 In our first segment, we spoke with filmmaker Deborah Shaffer about her documentary about the pioneering artist and feminist Audrey Flack.
In our second segment, we speak with the film's editor and co-producer Rachel Reichman, who gives us a close-up view of the process of editing the film and documentaries in general.
Rachel Reichman has edited scores of prize-winning documentaries, including Hitchcock/Truffaut, A Letter to Elia, and Women, War and Peace.
For listeners on the East End of Long Island, Queen of Hearts will play at the Parrish Art Museum on March 6, 2020.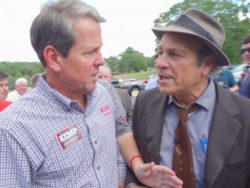 Greg Palast
It's clear that there are many ways US elections have of suppressing the vote or denying it outright.
One of the most egregious is purging voter rolls. That's what happened in Georgia in 2018, when the Republican Secretary of State, Brian Kemp (who was overseeing the election), ran for governor and won by the slimmest of margins. He had purged many thousands of voters, mostly young, African American or Latino, voters whose likely choice was the Democrat, Stacy Abrams.
Investigative journalist Greg Palast has often been a guest on our show, talking about voter suppression. He just won a major court ruling in Georgia to force Governor Kemp to release all records pertaining to the 2018 purge.
WV caught up with him this week for an extended conversation can be heard here, but on this episode, we play an excerpt from that interview.
Greg Palast is investigative reporter for the Guardian and author of numerous books, including The Best Democracy Money Can Buy (also a movie.)