Podcast: Play in new window | Download
Subscribe: Apple Podcasts | RSS
We talk with Nora Krug about her memoir exploring her family's history during Nazi Germany, Belonging: A German Reckons With History and Home.
Then, when her daughter got into college in Manhattan, celebrated New Yorker cartoonist Roz Chast wanted to give her a guide to getting around in the city. We talk with Chast about the graphic book that came out of that guide. It's called Going Into Town: A Love Letter to New York.
Writer's Voice — in depth conversation with writers of all genres. On the air since 2004. Rate us on iTunes!
Nora Krug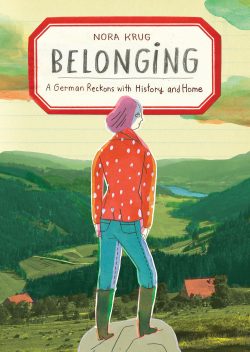 Nora Krug grew up in Germany half a century after WWII, but that war cast a long shadow throughout her childhood and youth. For her, just being German bound her to the Holocaust and its atrocities, making it hard to feel she belonged to her country. Krug knew little about her own family's history during the war: none of her grandparents ever spoke of it.
As a young adult, she moved first to the UK, then the US, where she became an American citizen. Then, nearly two decades after leaving Germany, she decided to find out what happened during the war and whether finding out could help her understand what it means to be a German of her generation.
She returned to her home town to speak with relatives and consult archives on a quest to uncover her family's wartime story.
Equal parts graphic novel, family scrapbook, and investigative narrative, the book that resulted, Nora Krug's memoir Belonging, is a record of one German woman's struggle with the weight of history. It's also a reflection on the responsibility that we all have as inheritors of our countries' pasts.
Nora Krug is a German-American author and illustrator whose drawings and visual narratives have appeared in publications including The New York Times, The Guardian, and elsewhere. She's the author of five books, several of them for children. Krug teaches illustration at the Parsons School of Design.
Nora Krug, Excerpts from Belonging
Roz Chast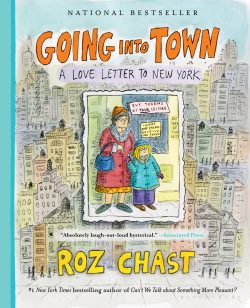 New Yorker cartoonist Roz Chast is famous for her hilarious depictions of people doing the typical but endearing neurotic things that people do.
Her last book, Can't we Talk About Something More Pleasant? was a best-selling look at growing up with her parents in Brooklyn. Then, when she had kids, she moved to the suburbs.
But can a New Yorker ever really leave New York, especially Manhattan, behind? When her daughter moved to NY for college, Chast decided to create a kind of guide for her. This turned into her new book, Going Into Town: A Love Letter to New York.
Told through Chast's zany, laugh-out-loud, and on-target cartoons, Going Into Town is part New York stories, part personal and practical guide to walking, talking, renting, and venting. It's an irresistible, one-of-a-kind love letter to the city.