Podcast: Play in new window | Download
Subscribe: Apple Podcasts | RSS
We talk with the great cartoonist Jules Feiffer about the third graphic novel in his noir trilogy about the Hollywood blacklist of the 1940s and 50s, The Ghost Script. Then we replay part of our 2008 interview with comic artist Art Spiegelman. Finally, we remember the late Israeli writer Amos Oz and his last book, Dear Zealots.
Jules Feiffer
Jules Feiffer is the celebrated dean of American cartooning, with a career spanning from 1946 to today. He won the Pulitzer Prize in 1986 as America's leading editorial cartoonist, and in 2004 he was inducted into the Comic Book Hall of Fame. He was born in 1929 — an auspicious year for the future cartoonist, because it was the year Popeye was born, a cartoon that became an early inspiration for him.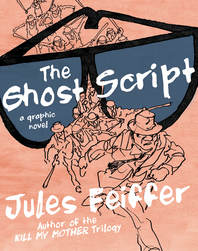 Now just a few weeks from his 90th birthday, Feiffer is still going strong with his art. We spoke with him about his latest book, a graphic novel in the noir genre about the Hollywood blacklist. The Ghost Script is actually the last in the Kill My Mother trilogy about the blacklist. The Washington Post called it a political masterwork and one of the best books of 2018.
The Hollywood blacklist began in 1947, when screenwriters in Hollywood were denied employment because they were suspected of being communist sympathizers. It's a topic close to Feiffer's heart — in addition to being a cartoonist, he's a playwright and screenwriter.
So the whole notion of screenwriters being denied the opportunity to practice their craft because of their political beliefs – or suspected beliefs — is not only anathema to him, it's personal. The Ghost Script contains lessons that are acutely relevant today. But the story Feiffer tells is also a whodunit, each frame of which never fails to entertain.
Check out Jules Feiffer's column at Tablet
Art Spiegelman (encore):Â Listen to our entire 2008 interview with comic artist Art Spiegelman
Francesca Remembers Amos Oz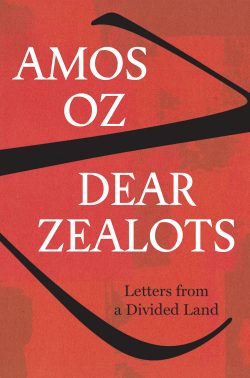 The great Israeli writer Amoz Oz died last week and with his death, a voice for reason and tolerance went silent. A few months back, I received a copy of Oz's last book, Dear Zealots, for consideration on the show.
Caught up with a backlog of interviews and scheduled air dates, I took my time in responding. But I kept the book on my bedside table, where it called to me to read it every time my eye fell on it. Finally, I did — and was profoundly moved.
The book is a cry of the heart — and of a brilliant mind — against the fanaticism that is sweeping the world and most particularly for Oz, the land where he was born and lived all his life, Israel.
My copy of the book soon filled up with dog ears and post-it tabs marking notable passages, like this one:
As the questions grow harder and more complicated, people yearn for simpler answers, one-sentence answers that point unhesitatingly to a culprit who can be blamed for all our suffering, answers that promise that if we only eradicate the villains, all our troubles will vanish."
Amos Oz decried the extremist loathing that he said was "More and more commonly, the strongest public sentiment" — loathing of each side for the other — and he called such extreme loathing "a component of fanaticism in all its guises."
He tied it to, as he wrote, "the increasing infantilization of masses of people everywhere in the world" — no coincidence, he said, because "there are those who stand to gain from it and those who ride its coattails, whether from a thirst for power or a thirst for wealth."
Yet, for Amos Oz, hope for partial immunity against fanaticism lay in human curiosity and imaginative power. In the following passage, he explains:
"to imagine the inner world, both intellectual and emotional, of the other. To use our imagination even in times of strife. To use it also, primarily, in moments when we feel a surge of fury, insult, loathing, righteousness, and the certainty that we have been wronged and that justice is entirely on our side. Perhaps also to ask, once in a while: What if I were her? Or him? Or them? To step, for a moment into the other's shoes and under his skin, not in order to cross the river or be "reborn," but simply to understand, to sense, what is there…Perhaps, indeed, in curiosity lies the prospect of openness and tolerance."
After reading Dear Zealots, I immediately, if belatedly, contacted the Houghton Mifflin publicist who is handling the book and requested an interview. She answered quickly to say she would ask the author for a time to schedule it. A few weeks went by, and when I followed up, I learned that Oz was sick and unable to schedule an interview. Then, not long after, I learned of his passing.
I am sad that I did not get a chance to speak with Amos Oz and sadder that the world must now stumble on without him. But I am profoundly grateful for his voice and for this slim last volume that he left us, Dear Zealots.