Podcast: Play in new window | Download
Subscribe: Apple Podcasts | RSS
We spend the hour talking with Dr. George Yancy about racism in America and what white people can do about it.  His book is, Backlash: What Happens When We Talk Honestly About Racism in America?
It grew out of a 2015 New York Times op-ed, a letter entitled Dear White America and the vitriolic backlash he experienced from many white readers in response. 
George Yancy
The Holidays are just around the corner — a time when families and friends get together. What will you talk about around the Thanksgiving or Holiday table?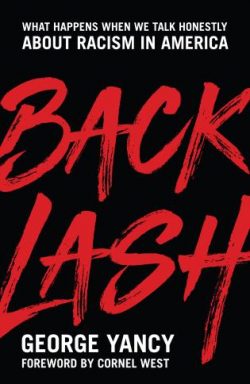 Here's a suggestion, at least if you're white: an honest and open-minded inquiry about racism and white privilege. It may not be conventional, but It's a conversation that's long overdue.
And it's something that every white person can do with the people in their lives to actually bring greater peace and love into the world at a time when the country seems on the brink of a cultural civil war.
That was the intent behind George Yancy's 2015 op-ed in the New York Times, "Dear White America." It was written in a spirit of loving confrontation — akin to the intervention you might make with a loved one who has a substance abuse problem. Only the substance abuse in this case is the pernicious seduction of white privilege, a privilege that depends on the dehumanization of others.
Yancy knew his article would be controversial. But even he was shocked with the tsunami of racist invective he received (and, three years later continues to receive) in response to his letter to white America.
In his book Backlash, Yancy expands on the original article and chronicles the ensuing controversy as he seeks to understand what it was about the op-ed that created so much rage among so many white readers. He challenges white Americans to rise above the vitriol and to develop a new empathy for the African American experience.
Dr. George Yancy is an American philosopher and professor of philosophy at Emory University. He edits the "Philosophy of Race" book series of Lexington Books and is known for his work in critical race theory. He's written, edited, or co-edited more than 18 books. The forward to Backlash is written by Cornel West.
Read George Yancy's op-eds Dear White America and #IAmSexist