Podcast: Play in new window | Download
Subscribe: Apple Podcasts | RSS
Ceridwen Dovey talks about her wonderful new short story collection Only The Animals (Farrar, Straus & Giroux). These poignant stories are told by the souls of ten literature-loving animals who were killed in the course of human conflict.
Then, a novel from the 1930's is selling like hotcakes in 2017, as people wonder, "could it happen here"? We talk with Sally Parry, director of the Sinclair Lewis Society about Lewis' novel about the coming of fascism to America, It Can't Happen Here (Random House).
Ceridwen Dovey
A cat belonging to the French cabaret performer Colette dies in the trenches of World War I. A blue mussel on a quest for self-knowledge à la Jack Kerouac's On The Road is killed during the bombing of Pearl Harbor. And a dolphin sent to Iraq by the U.S. Navy writes a letter to Sylvia Plath before perishing in the conflict.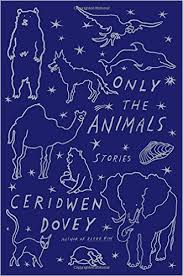 These are three of the animals whose souls tell their stories in Ceridwen Dovey's new collection, Only The Animals. Each has been killed in a human conflict of the past century or so and tell the story of their deaths in turn.
Haunting, poignant and sometimes mordantly funny, the stories illumine our relationship to animals and vice versa. But Only The Animals also explores how other writers have used animal characters to talk about the horrors humans inflict on themselves and other beings. Think Gunther Grass's flounder or George Orwell's pig Napoleon.
Dovey says she, like other writers, uses the imagined voices of animals to awaken "radical empathy" — not only for the animals we humans affect so heedlessly but also for ourselves.
In addition to Only The Animals, Ceridwen Dovey is the author of the novel Blood Kin. She has contributed pieces to The New Yorker, such as the one linked below.
Ceridwen Dovey on "What Old Age Is Really Like"
Sally Parry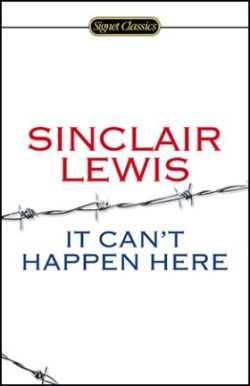 Sinclair Lewis's 1935 novel It Can't Happen Here is a cautionary tale  about how fascism could take hold in America. The novel combines satire with the chillingly realistic rise of Buzz Windrip, who runs  and wins his presidential campaign on making America great again by serving the needs of the "forgotten man."
Sound familiar?  A lot of readers think so. Penguin Random House reissued It Can't Happen Here after the November election and the sales have been so phenomenal, they've had to reprint it several times already.
Once he's in office, Windrip wastes no time in transforming democracy into a plutocracy, with himself as dictator. Labor and civil rights are abolished, the liberal press is declared the enemy of the people and armed militias enforce obedience.
WV talks with Sally Parry, executive director of Sinclair Lewis Society about It Can't Happen Here — and why its lessons are so relevant to us today.