Podcast: Play in new window | Download
Subscribe: Apple Podcasts | RSS
Peter Blood and Annie Patterson, co-creators of Rise Up Singing, talk about the sequel, Rise Again (Hal Leonard Publishing June, 2015). We talk with them about both songbooks, their work with Pete Seeger and their long collaboration as a musical couple.
Then we talk with journalist and anti-fracking activist, Maura Stephens.
Peter Blood and Annie Patterson
The songbook Rise Up Singing came out in 1988 and quickly became a classic. With 1200 songs in many popular genres, it enabled people everywhere to get together and lift up their voices in song.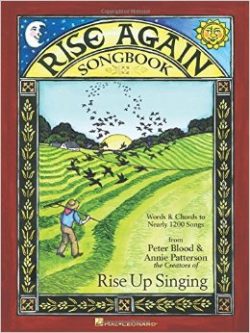 But it was hard to use if you didn't know the tune, because all it had were the lyrics and the chord changes. (On the other hand, that meant you had to get together with others who did know the tune, which added to the fun.)
Now, Rise Up Singing creators Peter Blood and Annie Patterson have come out with another all new songbook, Rise Again. And this time, it's linked to a website and a Youtube channel that will have you remembering old songs and learning new ones in no time.
Rise Again features 1200 new songs, covering genres like Ballads & Old Songs, Blues, British Invasion & Rock, Country, Dignity & Diversity, Earthcare, Freedom — and all the way down to Work.
Annie Patterson and Peter Blood are musicians, song leaders & songbook makers. They lead Singalong Concerts and workshops at festivals, schools and private events.
Peter Blood was active in the civil rights movement of the 1960s. Annie Patterson is a singer songwriter and jazz vocalist, as well as a song leader, with several CDs of her own work.
A great big thanks and shout-out to Johanna Halbeisen of the New Song Library for telling WV about Annie and Peter's work!

Maura Stephens
Hydraulically fractured wells provide two-thirds of U.S. natural gas production. But is it worth the dangers? Earthquakes, poisoned water tables, radioactive leaks, catastrophic spills and explosions are some of the disastrous consequences of our addiction to this supposed "bridge fuel to the future."
"Fractivists" all around the country are mobilizing to stop fracking and transition immediately to clean energy. A few weeks ago, Francesca spoke with one of them, New York anti-fracking activist and journalist Maura Stephens. She's a Founding member of the Coalition To Protect NY and Frackbusters-NY.
Next week, WV will  talk with novelist Jennifer Haigh, whose just-released book Heat and Light is about what happens when fracking comes to a small Pennsylvania community. We'll also talk with journalist Andrew Nikiforuk about his book, Slick Water. It's the remarkable story of a geologist turned fracking opponent.
Listen to the full interview:
Fighting Fracking's "Corporate Marauders" In Pennsylvania & New York