Podcast: Play in new window | Download
Subscribe: Apple Podcasts | RSS
America's First Couple of do-it-yourself building projects David and Jean Stiles talk about their latest book, Backyard Buildings: Tree Houses, Sheds, Arbors, Gates and Other Garden Projects. Then we replay our 2013 interview with Howard Mansfield about his profound and delightful book, Dwelling in Possibility: Searching for the Soul of Shelter.
David & Jean Stiles
The weather is warming up and, with it, folks start thinking about their back yards. Along with garden plans, you might allow yourself to dream of spaces you can build to enjoy the outdoors. How about a tree house? Or a tea house? Maybe a garden arbor or a deck with built-in seats and planters?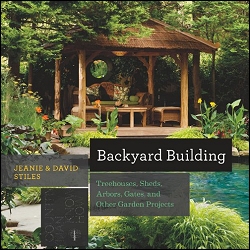 Not an experienced builder? No matter. With a few hand tools and the latest book from David and Jean Stiles, you can make your dreams come true more easily than you think.
The book is Backyard Building: Tree Houses, Sheds, Arbors, Gates and Other Garden Projects. Its simple designs are both beautiful and functional and, best of all, the instructions are easy to follow and all you need are simple tools.
David is the builder and designer; Jean is the writer. The two have it been at it for a couple of decades at least, with 15 books on building kids furniture, tree houses, cabins and sheds. They also have published a wonderful book on skills, Woodworking Simplified.
Francesca met the couple after noticing a sign tacked up on the wall of the Springs General Store in East Hampton, NY. It showed a beautiful, Tudor style handmade cabin for sale. When she went to see the cabin at the Stiles' homestead nearby, it was love at first sight.
The cabin was a demonstration model for a project in another Stiles book, Sheds: The Do-It-Yourself Guide For Backyard Builders. Moved by flatbed truck to Francesca's home, the small space (8.5 X 11 feet) is now a cozy writing studio.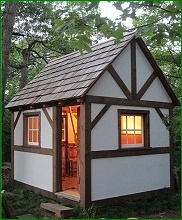 Click here for information about our 2013 interview with Howard Mansfield about his book Dwelling In Possibility