Podcast: Play in new window | Download
Subscribe: Apple Podcasts | RSS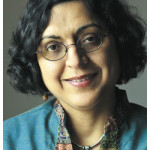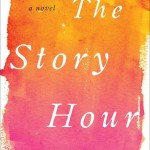 WV spends the hour with Indian-born novelist Thrity Umrigar, talking about her latest work of fiction, THE STORY HOUR (Harper Collins, August 2014) and her 2012 novel, THE WORLD WE FOUND. Also, we air a sneak preview from next week's show: a conversation with scientist Paul Ehrlich about HOPE ON EARTH.
The Story Hour
In her novels, Indian-born writer Thrity Umrigar plumbs the furrowed depths of the human heart through the lens of cultural collision. Her 2010 novel, The Weight of Heaven, was the story of an American couple who go to India to try to forget the tragic death of their young son. Her 2012 book, The World We Found, explored the clash of cultures between Muslims and Hindus in India, as well as the impact of emigration on identity.
Now she's out with a terrific new novel, The Story Hour.  The book locates the boundaries of culture, race, gender and class and challenges its characters to transcend those boundaries to arrive at the deepest human concerns: friendship and love, loyalty and betrayal — forgiveness and redemption.
The protagonists: Lakshmi, a poor immigrant from India locked into a loveless marriage in America. Maggie, the African-American psychotherapist Lakshmi is referred to after a suicide attempt. Their hearts are as contradictory as our own. Through the unfolding relationship between these two characters, the reader is prompted to examine his or her own heart and discover the common humanity that unites us all.
Thrity Umrigar is the author of 5 novels and a memoir. She's also an award-winning journalist.
Read an excerpt from The Story Hour
The World We Found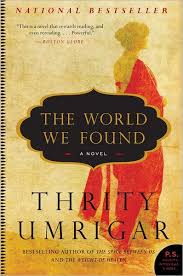 Like her 2010 novel, The Weight of Heaven, Thrity Umrigar's 2012 novel The World We Found is set in her native land, India. It's about four women from Bombay who were the closest of friends as idealistic students in the turbulent 1970's.
Over the years, the four, Armaiti, Kavita, Laleh and Nishta, have drifted apart. But they are suddenly pulled together again when Armaiti, who has been living in America, finds out she has terminal cancer. She wants her friends to come together to visit her in America, so she can see them one last time.
This beautiful novel explores themes of friendship and loyalty, of how our personal lives unfold against the backdrop of bigger events, and how those who love us can give us the courage to change. It also takes a hard look at anti-Muslim bigotry in India and how that has sparked a rise of religious fundamentalism in the Muslim community.
We first aired this interview in February 2012.
Listen to our 2010 interview with Umrigar about The Weight of Heaven.
Sneak Preview!
WV airs a sneak preview from next week's show: an interview with world-renowned scientist Paul Ehrlich about his recent book Hope On Earth (co-authored with Michael Charles Tobias).