Podcast: Play in new window | Download
Subscribe: Apple Podcasts | RSS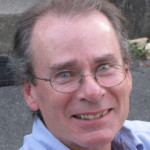 Russell Steven Powell is a publisher, writer, artist, poet, filmmaker, blogger and agricultural historian based in Hatfield Massachusetts. For decades, he's written about the arts, the environment, agriculture and education in the Connecticut River Watershed. He spoke about his work on Episode Six of Writers Voice's special series, The River Runs Through Us.
Powell's work is deeply committed to the intersection of the natural landscape and our presence in it. His work searches for meaning in the natural world and finds it in paying attention to the subtle, the present and the ever-changing landscape. His writing and artwork can be found at his blog, russpowell.net. Here he reads his essay, "Border Crossings."
Our thanks to Mass Humanities for their support for this series.