Podcast: Play in new window | Download
Subscribe: Apple Podcasts | RSS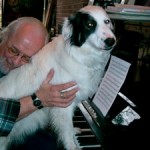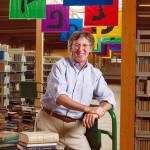 Composer Roger Ames talks about writing music for voice and about his latest projects, including "Laudate Dominum" and a musical adaptation of How Green Was My Valley. Also Aaron Lansky of the Yiddish Book Center talks about his memoir, OUTWITTING HISTORY in a 2006 encore interview.
Roger Ames
When composer Roger Ames was commissioned by film and theater director Mirra Bank and her husband, playwright Richard Brockman, to write a piece for a group of talented teenage musicians, he was thrilled. Not only because writing music is his passion in life, but because he also loves working with young people (he's director of vocal activities and composer in residence at Great Neck North High School).
The piece was commissioned for Bank's and Brockman's Playhouse Project, which mentors young musicians by offering them instruction and performance opportunities without charge. The Playhouse Project is named after the Elizabethan style theater (and home) Bank and Brockman own on Huntting Lane in East Hampton, Long Island. When WV host Francesca Rheannon arrived for the interview, the orchestra was in the soaring performance space, rehearsing Ames' piece a homage to Leonard Bernstein entitled, Laudate Dominum. She repaired with Ames to an adjoining room, where the rehearsal sounds occasionally filtered through the walls.
Roger Ames has written numerous operas and musicals for American opera companies, Off-Broadway, London Fringe, and the Hartford Stage. He was nominated for the Pulitzer Prize for Requiem for Our Times, which set Anne Sexton's poetry to music. Other works include In Memoriam: Warsaw 1943 and Martin Guerre. He's currently working on a musical based on Richard Llewellyn's book HOW GREEN WAS MY VALLEY. WV spoke with him about writing music for lyrics and the similarities and differences between writing words and writing music.
Aaron Lansky
Chanukah is this week. Francesca celebrated it with her 6 year old granddaughter in Brooklyn, not far from the home territory of the one of the last surviving communities that speak Yiddish as a native language, the Lubovitcher Chasidim. But Yiddish is experiencing a revival outside that community, with young and old taking classes, reading Yiddish literature and listening to Klezmir music.
It's safe to say that the Yiddish revival was sparked by Aaron Lansky, director of the Yiddish Book Center in Amherst MA. For more than 25 years, he's been on the road to rescue the world's abandoned Yiddish books. The Center has rescued some more than a million of them and become a center for Yiddish revival, with classes, exhibitions, plays and film showings — all in a collection of buildings on the campus of Hampshire College that resembles a shtetl of old.

Francesca spoke with Aaron Lansky in 2006 about his memoir OUTWITTING HISTORY: The Amazing Adventures of A Man Who Rescued A Million Yiddish Books.
Aaron Lansky reads from his book OUTWITTING HISTORY