Podcast: Play in new window | Download
Subscribe: Apple Podcasts | RSS

Amanda Little talks about her book POWER TRIP: From Oil Wells to Solar Cells. It's about our addiction to fossil fuels and how to get off them. And Anna Lappé tells us about her new book, DIET FOR A HOT PLANET: The Climate Crisis At the End of Your Fork and What You Can Do About It.
[amazon-product align="right"]0061353256[/amazon-product]
What a difference an oil spill makes. Before the BP spill happened in the Gulf, the media was full of reports that Americans were getting less concerned about the environment. With oil prices down and worries about jobs up, climate change and other looming environmental disasters fell off the radar screen.
But BP has focussed the collective mind on our addiction to oil and the disasters it brings. And, with oil-smeared communities on the Gulf Coast seeing their economic lifelines of fishing and tourism threatened with extinction, the connection between environmental catastrophe and economic ruin is finally becoming clear.
In her quest to trace the development of our fossil fuel economy for her new book, POWER TRIP, Amanda Little went out on a deep sea oil drilling platforms that was built by Transocean for Chevron. The company built a sister platform for BP — the well that now is spewing oil uncontrollably into the fragile ecosystem of the Gulf.
Amanda Little writes about the environment, energy and technology. Her syndicated weekly column, "Muckracker," appeared on Grist.org and Salon.com. She also wrote "Code Green," a monthly column on green innovations for Outside magazine, where she was a contributing editor. Her work has appeared in the New York Times Magazine, Vanity Fair, and Rolling Stone, among other venues. She was given the Jane Bagley Lehman Award for excellence in environmental journalism.
Read an excerpt from POWER TRIP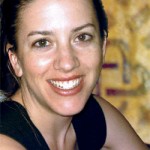 [amazon-product align="left"]1596916591[/amazon-product]
Our food system is a major contributor to the greenhouse gases that are playing havoc with the Earth's climate, from cutting down forests for farmland, to raising meat animals in huge industrial operations, to the thousands of carbon spewing miles our food travels.
The connection between environment and food was first brought to public awareness by Frances Moore Lappé. Her hugely influential book, DIET FOR A SMALL PLANET, advocated vegetarianism as a healthy, environment friendly alternative to the predominant meat heavy diet Americans followed.
Now her daughter, Anna Lappé, has come out with DIET FOR A HOT PLANET. It's about creating a climate friendly food system that is healthy, tasty, and sustainable.
Anna Lappé is also co-author, with Frances Moore Lappé, of HOPE'S EDGE and of GRUB (co-authored with Bryant Terry). A bestselling author, she is respected for her work on sustainability, food politics, globalization, and social change.
Read an excerpt from DIET FOR A HOT PLANET