Podcast: Play in new window | Download
Subscribe: Apple Podcasts | RSS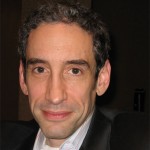 Media critic Doug Rushkoff talks about LIFE, INC. and Jeff Sharlet, author of THE FAMILY, returns for another interview, updating us on how the sex scandals in Washington are splitting the Christian Right.

In his book DAS KAPITAL, Karl Marx posed the idea that capitalism leads to a peculiar distortion of relationships in society. He called it commodity fetishism. He said that although the market and the ways things are produced for it are social constructions —  relationships between people — this social relationship assumes the "fantastic form of a relation between things". And that meant that capitalism appears to be natural and eternal, rather than just one way among many that people have created and organized an economy.
[amazon-product]1400066891[/amazon-product]
Doug Rushkoff says corporate control of our society has reached into all arenas of human relations, so much so, that we are increasingly disconnected from each other and locked out of expressing our true creativity and humanity. The free market is a fiction and so, fundamentally, is democracy. Rushkoff's new book is [amazon-product type="text" text="Life Incorporated, How The World Became A Corporation And How To Take It Back"]1400066891[/amazon-product].
[amazon-product align="left"]0060559799[/amazon-product]
I was joined on this interview by guest co-host Bill Baue. He and I produced another radio show about business and sustainability called Sea Change Radio.
When sex scandals involving three prominent Republican politicians hit the media this summer, few initially made the connection with a secretive fundamentalist group that calls itself The Family. But in a surprise move, the fundamentalist christian journal World recently published a scathing investigative critique of the Family and its relationship with the three, Senator Ensign of Nevada, Governor Mark Sanford of South Carolina, former Congressman Chip Pickering of Mississipi. All three reside or have resided at a house on C Street in Washington DC owned and operated by the Family.
[sniplet amazon search]
We talked with my next guest Jeff Sharlet in 2008 about his [amazon-product text="his book The Family" type="text"]0060559799[/amazon-product]. He gave us a terrific interview, so when he emailed about World's article and what it meant in the landscape of America's Christian right, I leaped at the chance to bring him back on the show. He gives us the low-down in this interview.
Sharlet also tells us about the growing influence of the extreme Christian Right in the higher ranks of the U.S. military. You can here more about that from a previous appearance on WV. And you can read his Harper's Magazine article, "Jesus Kills Mohammed" here.