Podcast: Play in new window | Download
Subscribe: Apple Podcasts | RSS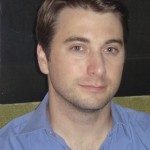 Host Francesca Rheannon talks to Peter Manseau about his novel [amazon-product text="SONGS FOR THE BUTCHERS DAUGHTER" type="text"]1416538712[/amazon-product] and to Elizabeth Hartley Winthrop about her new novel, [amazon-product text="DECEMBER" type="text"]0307388573[/amazon-product].
[amazon-product align="right"]1416538712[/amazon-product]
SONGS FOR THE BUTCHER'S DAUGHTER traces the arc of Yiddish life and culture that  reached from the 1903 pogroms in Russia to the teeming streets of the Lower East Side in New York. The son of a Catholic priest and nun who left their Church vocations to get married, Peter Manseau knew little about Jewish culture until he got a job working for the National Yiddish Book Center in Amherst MA. In addition to this novel and a memoir, VOWS, Manseau is co-author of KILLING THE BUDDHA. He blogs at killingthebuddha.com, an online magazine of unconventional religious writing.
[amazon-product align="left"]0307388573[/amazon-product]
Elizabeth Hartley Winthrop's novel DECEMBER opens as 11 year old Isabelle has refused to utter a word in nine months. Her parents Wilson and Ruth Carter are at their wit's end. Four psychiatrists have abandoned her, declaring her silence to be impenetrable. No known trauma has precipitated their daughter's muteness. It's November–and her exclusive Manhatten private school is threatening to expel her unless she starts talking again by December. Winthrop's novel says something about how a child can often act out the larger distress in a family and cause all the family members to confront the necessity of healing.
Also, we hear two poems from Mary Oliver and Seamus Heaney.