Podcast: Play in new window | Download
Subscribe: Apple Podcasts | RSS
Travel writer Jane Marshall takes us on her modern quest for Shangri La; her book is Searching for Happy Valley.
Then, Francesca shares a story from her own journey to a Happy Valley in the foothills of the Maritime Alps of Haute Provence, where a market vendor of medicinal herbs taught her something about true vocation.
"I feel like if we can spend time in a place like one of these Happy Valleys that still holds these wisdom cultures that had these technologies and these systems that survived thousands and thousands of years before industrialization, that maybe we can learn how to respect the land again." Jane Marshall
Writers Voice— in depth conversation with writers of all genres, on the air since 2004.
Like us on Facebook at Writers Voice with Francesca Rheannon, on Instagram @WritersVoicePodcast or find us on Twitter @WritersVoice.
Love Writer's Voice? Please rate us on your podcast app. It really helps to get the word out about our show.
Tags: Writers Voice, podcast, book recommendations, author interview, book podcast, book show, creative nonfiction, travel, Jane Marshall, Shangri-La
Searching for Happy Valley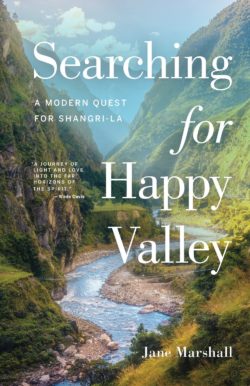 During her career as a travel writer, Jane Marshall has explored remote mountainous destinations worldwide.
Through her journeys, she discovered something remarkable: secluded valleys, referred to as "Happy Valleys" by the local inhabitants, that shared common attributes.
Common Traits of Happy Valleys
They are geographically isolated and shielded by towering mountains, hosting rare and endangered flora and fauna. They exist outside protected zones, which grants them autonomy but also exposes them to vulnerability.
The Indigenous populations in these valleys name the land after various body parts, both human and divine, and they hold women in high regard, recognizing their power.
Inside these Happy Valleys a harmonious relationship between humans and nature has been established.
What Happy Valleys Teach Us
Sleeping on ridges, in caves, and in the traditional dwellings of the locals, Marshall endured arduous journeys in her quest to comprehend the profound serenity she experienced within these places.
From residing in a goat herder's hut in Morocco's Atlas Mountains to participating in a Sundance ceremony with the Blackfoot/Soki-tapi people in Alberta, and ultimately embarking on a perilous pilgrimage in Nepal, where she reaches the heart of a sacred land adorned with treasures hidden by a renowned yogi, Jane Marshall takes readers on an extraordinary adventure.
In this episode, she tells us about this quest for Shangri-La and the wisdom that can potentially save the planet and nourish our own spirits.
About The Author
Jane Marshall is a writer who lives in Alberta, Canada. Her previous book was Back Over the Mountains: A Journey To The Buddha Within. She is the founder of The Compassion Project, which provides free health care and education to a mountain community in Nepal.
A Story From Province of the Heart: "The Cure Hunter"  by Francesca Rheannon