Podcast: Play in new window | Download
Subscribe: Apple Podcasts | RSS
We talk with Steven Levitsky, co-author of How Democracies Die. Then, political cartoonist Ted Rall and author Harmon Leon tell us about their book, Meet The Deplorables: Infiltrating Trump America.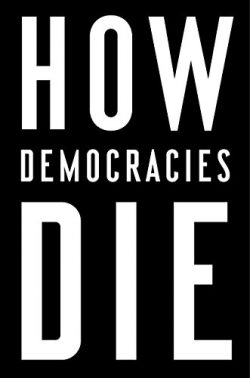 In May, President Trump crossed a dangerous Rubicon. He demanded that "his" Justice Department investigate the Mueller probe into his own campaign's ties with Russia. And Deputy Director Ron Rosenstein complied in part (although some say the compliance was an end run around complete capitulation.)
This intimidation of the independent judiciary falls squarely within the attack on democracy that Steven Levitsky warns about in the book he co-authored with Daniel Ziblatt, How Democracies Die. The New York Times reviewer said,
Levitsky and Ziblatt show how democracies have collapsed elsewhere—not just through violent coups, but more commonly (and insidiously) through a gradual slide into authoritarianism. How Democracies Die is a lucid and essential guide to what can happen here.
Steven Levitsky and Daniel Ziblatt are professors of government at Harvard University.
Read an excerpt from How Democracies Die
Ted Rall & Harmon Leon
Ted Rall has been a guest on Writers Voice more than once to talk about his sharp skewering of the body politic. His targets have been not just the Republican rightwing but also the center-right, including Democrats.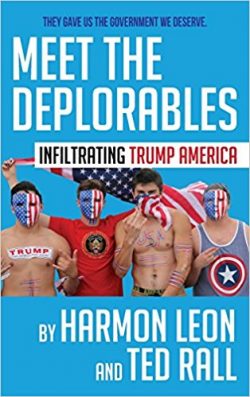 Now he's teamed up with legendary infiltration journalist Harmon Leon to answer the question so many of us have been asking since the night of November 8, 2016: "What the hell happened?"
In their book, Meet the Deplorables, Leon goes deep undercover into the heart of Trump America, and Rall adds an innovative extra dimension to the book with his own essays and full-color cartoons.
Ted Rall has worked in almost every aspect of cartooning. His syndicated editorial cartoons for Andrews McMeel Syndication have appeared in publications like The New York Times, Rolling Stone, Washington Post, and Village Voicesince the 1990s and have earned him two RFK Journalism Awards and a Pulitzer finalistship.
Harmon Leon is a journalist, comedian, and the author of six previous books, including The Harmon Chronicles and Republican Like Me, which both won Independent Publisher Awards for humor. Leon has appeared on This American Life, The Howard Stern Show, MSNBC, Penn and Teller: Bullshit!, Last Call with Carson Daly, and the BBC.
See images from Meet The Deplorables.