Podcast: Play in new window | Download
Subscribe: Apple Podcasts | RSS
Why is being in nature so good for us? And how can we design our built environment to better serve our needs?
We talk with science journalist Florence Williams about her book The Nature Fix: Why Nature Makes Us Happier, Healthier, and More Creative. Then we talk with Sarah Williams Goldhagen about her book, Welcome To Your World: How The Built Environment Shapes Our Lives.
Florence Williams
Why does it feel so good to be in nature? And what happens when we are  divorced from it, as we increasingly are?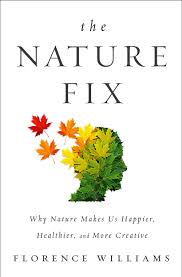 Kids used to spend most of their free time outdoors, playing in rural and suburban neighborhoods with at least some access to nature. But most kids these days spend most of their time indoors on their screens. Their chances to listen to birds in the branches, to feel the embrace of the living all around them, to inhale the rich smell of soil and greenery — all this is fading for them as for us. And our lives are poorer and less healthy for it.
When science journalist Florence Williams moved from outdoorsy Colorado to indoorsy Washington DC, she felt bereft of the nature she had previously enjoyed. The experience set her on a journey of discovery about why we love nature and what it does for us. Her book The Nature Fix reveals that being close to nature makes us healthier, happier, more resilient and even more creative.
Florence Williams is a contributing editor at Outside Magazine and a freelance writer for the New York Times, New York Times Magazine,  and National Geographic, among other publications. In addition to The Nature Fix, she is the author of Breast: A Natural and Unnatural History.
Sarah Williams Goldhagen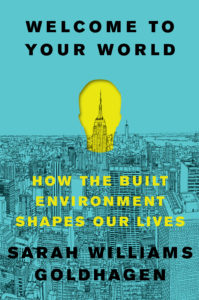 For the first time in human history, more than half the world's population now lives in cities — and that trend is likely to continue. With the built environment becoming our predominant habitat, it's becoming ever more important for us to pay attention to how we design our landscapes, buildings and cities.
In her book, Welcome To Your World, art and architecture critic Sarah Williams Goldhagen draws from recent research in cognitive neuroscience and psychology to show how people's experiences of the places they build are central to their well-being, physical health, social lives, and even their sense of themselves. She makes a powerful case that we need better-designed, healthier environments to fulfill our individual and social needs.
Sarah Williams Goldhagen taught at Harvard University's Graduate School of Design and was the New Republic's architecture critic until recently. Currently a contributing editor at Art in America and Architectural Record, she is an award-winning writer about buildings, cities, and landscapes for many national and international publications.