Podcast: Play in new window | Download
Subscribe: Apple Podcasts | RSS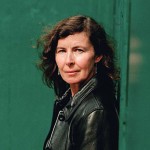 Margot Livesy talks about her new novel, THE FLIGHT OF GEMMA HARDY in the first half of the show. Later, WV airs our 2008 interview with her about an earlier novel, The House on Fortune Street.
The figure of the orphan is a classic trope in literature. To name just a few, there's Oliver Twist and Tom Sawyer for the boys' characters, and Ann of Green Gables and Jane Eyre for the girls. Margot Livesy's new novel, THE FLIGHT OF GEMMA HARDY, is loosely based on Jane Eyre, by Charlotte Bronte.
But it also takes much of its inspiration from the author's own childhood. Livesy grew up in the Scottish Highlands. She lost her mother at an early age and, like Jane Eyre, she attended a grim boarding school, where her emotionally distant father was a teacher.
In her character Gemma Hardy, Livesy has created an appealing protagonist who battles adversity with the grit and courage that Livesy wishes she had had more of when she was bullied at school. Gemma leaves the boarding school at 17 to become a governess to a wild young girl, also an orphan, in the remote Orkney Islands.
There she meets her young charge's guardian, Hugh Sinclair — a man of great wealth and social power who harbors a shameful secret. Of course, Gemma and Hugh fall in love. But Gemma has to decide whether she will allow her destiny to be determined by another—or whether she will write it herself. Like Jane Eyre, Livesy's novel is a kind of bildungsroman, where her character must find her own place in the world.