Podcast: Play in new window | Download
Subscribe: Apple Podcasts | RSS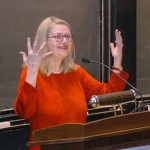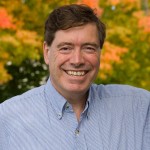 Susan Jacoby talks about NEVER SAY DIE, her trenchant critique of the myth of the "new" old age. And Dr. Allan Teel explains his innovative, community-based approach to elder care; his book is ALONE AND INVISIBLE NO MORE.
Susan Jacoby
It's going to happen to all of us–if we're lucky: we're going to get old. And more and more of us will get very old. 20 years from now, some 9 million people will be over 85, rising to over 20 million by 2050. (We need to keep that in mind as our political leaders are deciding the fate of Medicare and Social Security.)
That's because being very old is very difficult and very expensive. Contrary to the much promoted image of skydiving centenarians, most of us who live into our 80s and 90s and beyond will suffer debilitation of our bodies and, many of us, of our minds, as well. And just because you live a healthy lifestyle and exercise doesn't mean you're going to dodge the bullet.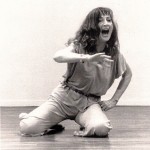 Francesca's nearly 91-year-old mother is a case in point. Until she was 83, she was a paragon of successful old age (here's a photo of her in performance at age 78). A pioneering modern dancer and choreographer, her last performance was at the age of 83 at Lincoln Center. She exercised daily her whole life, and she's been eating whole foods since the early 1960s. But old age caught up with her, and while her mind is still sharp, she has trouble walking and on most days struggles for every breath.
Susan Jacoby knows this landscape of old age intimately. She took care of her late partner throughout his years of debilitation from Alzheimer's. A social critic who spoke with us on writer's voice about a previous book, The Age of American Unreason, Jacoby has now turned her trenchant pen to exploding the myth of the "new old age" – a myth being marketed by self-help gurus and the drug companies. It's time to get realistic, Susan Jacoby says in NEVER SAY DIE, and start preparing for the silver tsunami.
Never Say Die: The Myth and Marketing of the New Old Age is Susan Jacoby's 10th nonfiction book. Her most recent book before this is Alger Hiss and the Battle For History, out in 2009.
Dr. Allan Teel
Our model of caring for the elderly is broken — miserable for seniors and unaffordable for society. But Dr. Allan Teel says he has the solution — commonsensical, cost-effective and a lot more humane. He explains it in his new book, Alone and Invisible No More:Â How Grassroots Community Action and 21st Century Technologies Can Empower Elders to Stay in Their Homes and Lead Healthier, Happier Lives.
Allan Teel has practiced geriatric and family medicine in Damariscotta, Maine for 25 years. He cares deeply about his patients and he respects them. So he chafed at the isolation, helplessness, and uselessness so many seniors experience in today's nursing homes –- places that are little more than warehousing facilities.
His frustration led him to help found a number of coordinated small-scale, homelike residences for frail elders that have garnered accolades. But, he found state-mandated red tape and unrealistic requirements, instead of safeguarding seniors well-being, ended up keeping the homes from being able to do all they wanted to do to improve it.
Now Teel's founded an innovative approach that uses grassroots community action and 21st technologies to empower elders to stay in their homes — or return to them from the nursing home or assisted living. It's called Full Circle America and he wants to roll it out across the country.
Listen to this Web-only extra: Dr. Teel tells a story about his own elderly father, who took care of an even more frail elder when the man's daughter needed a respite. It's a great example of the Full Circle America approach.
EXTRA, EXTRA!! Murdochgate: Listen to our archived interview with Marvin Kitman about how Rupert Murdoch skirted the law to get his toehold on America, while the FCC fell down on the job.