Podcast: Play in new window | Download
Subscribe: Apple Podcasts | RSS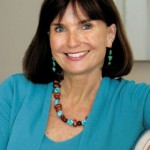 Writers Voice host Francesca Rheannon talks with Dr. Jean Kilbourne about [amazon-product text="SO SEXY SO SOON: The New Sexualized Childhood and What Parents Can Do to Protect Their Kids" type="text"]0345505077[/amazon-product]. Also this week, Francesca speaks with Matthew Aaron Goodman about his debut novel [amazon-product text="HOLD LOVE STRONG" type="text"]1416562036[/amazon-product].

[amazon-product align="left"]0345505077[/amazon-product]
So Sexy, So Soon
We live in a society that gets hysterical about teaching sex education to high school students. The same society allows kids as young as preschool age to be targeted by a marketing industry selling products soaked in sex and violence. It's cognitive dissonance. Whether it's sexy clothes and Bratz dolls for girls or Grand Theft Auto and other violent fare for boys, our kids are being taught to treat themselves and others as objects to be exploited and conquered. Parents stand by helplessly while their kids go down before the media marketing onslaught. It's a kind of child abuse that pervades our culture, yet we so seldom see it for what it is and are blind to its effects.
[sniplet amazon bookstore widget]
Media critic Jean Kilbourne has been questioning the impact of advertising on our society for a long time. Her film series, Killing Us Softly, examined advertising's image of women. Other films looked at alcohol and tobacco advertising. Her book [amazon-product text="Cant Buy My Love: How Advertising Changes the Way We Think and Feel" type="text"]0684866005[/amazon-product] explored how advertising impacts how we think and feel. Now, with her co-author,  Diane E. Levin, Dr. Kilbourne has come out with SO SEXY SO SOON: The New Sexualized Childhood and What Parents Can Do to Protect Their Kids.
Tips for Talking To Your Kids About Sex
Jean Kilbourne's Resources for Change
[amazon-product align="right"]1416562036[/amazon-product]
Hold Love Strong
The main character of Matthew Aaron Goodman's debut novel HOLD LOVE STRONG is:
Born to a thirteen-year-old in the bathroom of his family's small apartment; Abraham Singleton enters a world laden with the obstacles inherent in an impoverished community. In spite of the crack epidemic and the HIV crisis that ravages his neighborhood, his family, the Singletons—cousins, an uncle, and aunt, Abraham and his mother—are held together by Abraham's heroic grandmother, whose deep faith and stoic nature have always given them a sense of wholeness and hope. But when the family goes through seveal harrowing losses, not even his grandmother may be strong enough to lead them through.

Goodman was not to the ghetto born. He's white, Jewish and a graduate of the elite university, Brandeis. But he felt driven to take on the story of this family to process what he learned while working with ex-prisoners in creating The Leadership Alliance. The project united ex-prisoners and volunteer partners. Goodman's respect and love for the people he works with comes through strongly in this wonderful and compassionate book. His most recent project is the Scholar's Institute, a literacy project for Exalt, a program serving youth involved with the criminal justice system.