Podcast: Play in new window | Download
Subscribe: Apple Podcasts | RSS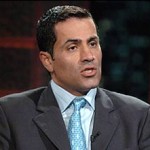 Middle East expert Vali Nasr talks about THE SHIA REVIVAL: How Conflicts within Islam Will Shape the Future in this engrossing interview with Francesca Rheannon.
Iranian-born scholar Vali Nasr recently went to work for the Obama Adminstration's Richard Holbrooke as a special representative on Af-Pak (Afghanistan-Pakistan) affairs. We talked to him in 2007 about his book The Shia Revival. It's about how conflicts within Islam — notably the Shia and Sunni sects and the respective countries they dominate — "will shape the future". He was just featured in the September 28, 2009 issue of The New Yorker, in an article by George Packer about Holbrooke, "The Last Mission."
[amazon-product align="left"]0393329682[/amazon-product]
He covers the history of the Shia-Sunni split and says the Shia's rise (aided by the Bush Administration's misadventure in Iraq and destruction of Saddam's Sunni dictatorship) encompasses Lebanon and Syria through the Persian Gulf to Iraq and Iran, and finally Pakistan and India.
His new book, just out, is[amazon-product text="Forces of Fortune: The Rise of the New Muslim Middle Class and What It Will Mean for Our World" type="text"]1416589686[/amazon-product]. You can also watch Nasar getting funny with John Stewart on The Daily Show recently:
[comedycentral 248972]