Podcast: Play in new window | Download
Subscribe: Apple Podcasts | RSS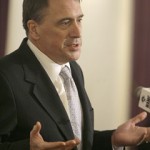 In this 2006 interview, Peter Galbraith says why he thinks the best solution for ethnic conflict in Iraq is to divide the country into three autonomous ethnic regions: for the Kurds, Shia, and Sunni. He was not a fan of the Bush Administration's nation-building efforts in Iraq. His predictions of civil war in Iraq proved prescient. As of this 2009 update, the situation has quieted, but Galbraith's prescription for Kurdish autonomy has largely been carried out.
His book is [amazon-product text="The End of Iraq: How American Incompetence Created a War Without End" type="text"]0743294246[/amazon-product]. It received a starred review from Publisher's Weekly in 2006.
[amazon-product align="left"]0743294246[/amazon-product]
Peter Galbraith is at the center of a new controversy: he was just fired from his post as deputy special envoy responsible for electoral matters at the United Nations, where he was the most senior American diplomat. Galbraith was working at the U.N. Assistance Mission in Afghanistan (UNAMA), where he was trying to get the U.N. to mount a robust investigation into charges that vote-rigging favoring incumbent Hamid Karzi were rampant. But he ran into opposition from his immediate boss, Kai Eide of Norway. Although their disagreement was internal, Ban Ki Moon recalled (fired) Galbraith — a step requiring agreement from the Obama Administration.
[sniplet amazon bookstore widget]
In a letter to U.N. Secretary General Ban Ki-Moon, Galbraithe argued that, "Given our mandate to support "free, fair, and transparent" elections, I felt UNAMA could not overlook the fraud without compromising our neutrality and becoming complicit in a cover-up."
In our interview, I found Galbraith thoughtful and credible, although his predictions (that Iraq would be ungovernable as a united Shia-Sunni-Kurd state) are yet to be proven. What was clear was that he was sincerely concerned with the real needs and interests of the civilians of Iraq. His current principled stand on the lack of credibility of the Afghan election also seems to stem from his integrity about and concern for the real needs of the Afghan people.
UPDATE: The New York Times reported November 13, 2009 that Peter Galbraith stands to gain "a hundred million or more dollars as a result of his closeness to the Kurds, his relations with a Norwegian oil company and constitutional provisions he helped the Kurds extract." The revelation puts an interesting spin on our interview with him.