Podcast: Play in new window | Download
Subscribe: Apple Podcasts | RSS
Journalist Doug Henwood talks about his new book, My Turn: Hillary Clinton Targets the Presidency. It's an in-depth examination of Hillary Clinton's record and its implications for her current run for the Presidency. Henwood questions whether Clinton is as progressive as she claims as she runs against a strong challenge from the left.
Doug Henwood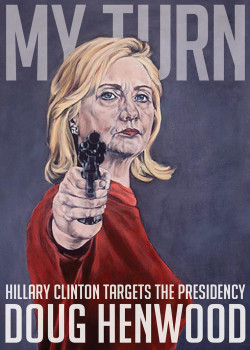 We are now in the final countdown to the Iowa Caucus and the real start to the election season. As we produce this show, Hillary Clinton is running neck and neck with Bernie Sanders in the latest Iowa polls and the race is tightening even in the national polls.
The success of Sanders' campaign in mobilizing enthusiastic swaths of the Democratic base has pushed Clinton to the left, at least in her campaign rhetoric. She has touted her progressive bona fides on abortion rights and gun control (despite some contradictory evidence in the past) and has even gone so far as to call Sanders the "establishment candidate."
Clinton has shifted away from earlier positions like her support for the TPP and the Keystone XL pipeline. But can voters trust that her current positions reflect a real progressive turn? Clinton continues to be burdened by her long record of support for (and by) Wall Street, her close ties to the fossil fuel, health insurance and drug industries, and her hawkish stance on foreign intervention.
Doug Henwood has delved deep into that record. In 2014, he wrote an essay for Harper's Magazine, which he he has now expanded into the book, My Turn: Hillary Clinton Targets The Presidency.
Henwood makes no bones about the fact that the book is a broadside against Clinton's bid for the presidency. But unlike other such polemics that have largely come from the right, Henwood critiques Clinton from the left.
Grounding himself in a close reading of her long political career, he finds little to trust in Clinton's progressive claims. And he is deeply troubled by the powerful ties she has developed with the world's corporate masters — ties that have enriched her and Bill Clinton's fortune by about $100 million dollars.
Doug Henwood is a journalist, economic analyst, and radio host who writes frequently about economic affairs. He publishes the newsletter, Left Business Observer, is a contributing editor at The Nation and host of the weekly radio show and podcast Behind the News. In addition to My Turn, he's the author of 3 previous books.